Titles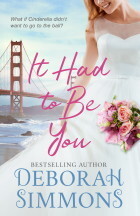 It Had to Be You

Wedding planner Paige Porter doesn't believe in fairy tales, but Siegfried Maitland is determined to change her mind. As CEO of The Maitland Company and the last in a long line of inventors, he might have to put aside his all-consuming research for a new venture: Project Paige. Because the moment he saw her he knew It Had to Be You.

"Unique and romantic, It Had To Be You by Deborah Simmons will capture you and delight you from page one until the last line." - SingleTitles.com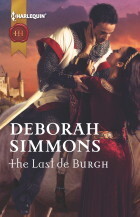 The Last de Burgh

The final book of the series focuses on Nicholas, the youngest of the de Burgh brothers. After making a vow to a fallen knight, Nicholas is thrust into a world of arcane relics, hidden messages, the powerful Knights Templar, and the mysterious Emery Montbard, who is not what she seems. But Nicholas harbors a secret, too, and faces a foe even the de Burghs cannot best.

"Beautifully written... Deborah Simmons is a master of combining intrigue with history." - Cataromance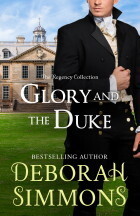 Glory and the Duke
Glory Sutton wants to reopen her family's once famous spa, though she scoffs at rumors of its romantic powers. But someone is working against her. Could it be the handsome and powerful Duke of Westfield, who might not be what he seems? Glory doesn't trust him—or herself when he's near.
Westfield doesn't believe in matchmaking waters or Miss Sutton's motives, but something about her stirs feelings he'd thought long dead. He's determined to solve all of her mysteries—including why she affects him like no other woman. Is the well working its magic?
"This historical romance has danger, intrigue and a thrilling mystery." – Romantic Times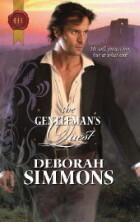 The Gentleman's Quest

After the events that occurred in The Dark Viscount, Christopher Marchant retreats from the world. But the arrival of an enigmatic young woman forces him into actione. Soon the two are on a frantic quest to find a volume of forgotten lore, while avoiding a host of unknown pursuers. A finalist for RWA's Daphne du Maurier Award for Mystery/Suspense.

"Deborah Simmons pens a tale filled with danger and intrigue, and don't forget the romance, in The Gentleman's Quest." - CataRomance

"Fast-paced action, dark secrets and an interesting couple make this a quick, light roller coaster ride of a read." - Romantic Times


Reynold de Burgh: The Dark Knight

Reynold de Burgh left his family and its legacy behind, but is he fleeing from his destiny or running toward it? When he is told that he must fulfill a quest to slay a dragon and rescue a damsel in distress, Reynold thinks it the stuff of legends. Yet he soon stumbles across a deserted village, where a beautiful woman begs for his help . . .

"It's a romantic story of a true knight in shining armor and the woman who inspires him to slay dragons. Engaging characters, authentic dialogue and lots of surprise twists captivate readers." - Romantic Times

"Deborah Simmons has penned a novel designed to leave a smile on your face when you turn the last page." - CataRomance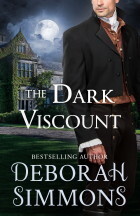 The Dark Viscount
Sydony Marchant is suspicious of the maze behind her new home, an old manor house with a sinister history. She's even more suspicious of darkly handsome Bartholomew Hawthorne, and when he arrives on her doorstep, she doesn't know whether to run to him—or away from him.
Viscount Hawthorne hasn't traveled to Oakfield for a friendly visit or to gawk at a garden maze, no matter how eerie it is. He's there to solve a mystery of his own, and he won't be distracted by lovely Sydony Marchant—even if she could be his one weakness.
But Sydony and Samhain may change his mind.

"Simmons grabs readers with a well-crafted Regency-set romance. A stormy, bleak landscape; a dark, unwelcoming manor house and mysterious goings-on in the overgrown ominous maze lend a chilling gothic flavor." – Romantic Times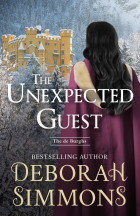 The Unexpected Guest: A de Burgh Novella
With so many of his seven sons scattered, Christmas holds little joy for the Earl of Campion until the arrival of an intriguing young widow.
Lady Warwick trusts no man, even the legendary Campion. But a winter storm forces her to seek shelter at his castle, where the festivities—and her enigmatic host—are like nothing she has ever known.
Can the Twelve Days of Christmas thaw Campion's famous reserve and melt the lady's heart?
"Deborah Simmons is a talented writer whose stories I always look forward to reading—and this one is no exception." — All About Romance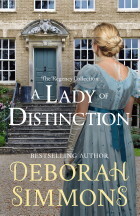 A Lady of Distinction

When Morgan Beauchamp delivers a shipment of artifacts to Egyptologist Lady Juliet Cavendish, it is rumored that he has unleashed an ancient curse upon the household. But Lady Juliet is more concerned with the explorer's ability to unleash her passions, urging her from her staid existence toward a life of adventure.

A RITA Award Finalist for Best Historical Romance

"Simmons creates engaging characters and spices up her romance with plenty of action and suspense to keep you on the edge of your seat." – Romantic Times
A Man of Many Talents

Abigail Parkinson is anxious to rid her inherited home of its troublesome specter. When she cannot convince a scientist or scholar to investigate, she turns to the one man she doesn't want to ask for help: Lord Moreland.
Viscount Moreland isn't a scientist or a scholar. The blood of pirates runs in his veins. But he's known for debunking a haunted house, and when summoned to Sibel Hall he vows to solve all of its secrets—including how to woo the intriguing Miss Parkinson.

"Readers looking for a light, funny, and smart story can find it here." – All About Romance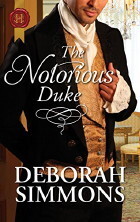 The Notorious Duke

When a friend wagers Pagan that there is at least one woman who is not dazzled by his charms, he accepts. But he finds himself schooled by Scholastica Hornsby, a member of one of Brighton's most eccentric families and an outspoken advocate of the budding movement for women's rights. Then all bets are off as the notorious duke makes a love match.

"Simmons never fails to please her fans." - Romance Reviews Today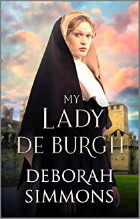 My Lady de Burgh

Blaming the rash of family weddings on some sort of curse, Robin de Burgh tries to find a cure, but instead he stumbles across murder, mystery . . . and his own mate.

"Would you like to read a funny, sexy story with enough atmosphere to transport you to the past, but one that does not overdose you with period language or history lessons? Deborah Simmons' latest might just fit the bill." – All About Romance

"A dash of mystery, a smidgen of humor, a full serving of romance with a hint of 'double, double, toil and trouble' make this my new favorite of the de Burgh series - but only until Deborah Simmons writes the next one." - Romantic Times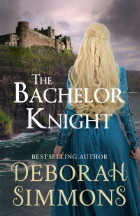 The Bachelor Knight: A Medieval Romance Novella

A Knight's Vow

Lady Guenivere St. Leger has need of a knight. But she trusts none except Sir Berenger Brewere, who turned his back on his birthplace long ago. Now one of the foremost warriors in the country and a favorite of the king, will he remember those he left behind?

Sir Brewere has his own vast lands, earned in battle, and wants no reminders of his past. But he cannot ignore a summons from the St. Legers. Years before, he swore an oath more powerful than mere allegiance. And 'tis a vow he must honor, no matter the cost.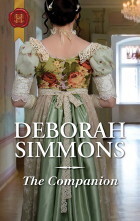 The Companion

In Simmons' heart-warming novella The Companion, originally published in The Officer's Bride anthology, a destitute relative hired by the dowager countess of Hawthorne is taken aback to discover her duties involve the earl himself, a veteran of Waterloo.

"Readers will be in for a treat - make that three treats, with The Officer's Bride." - All About Romance

"Simmons once again delivers characters that steal your heart." – Bookaholics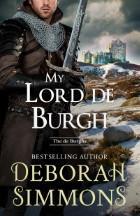 My Lord de Burgh
The handsomest of the de Burgh family of knights, Stephen enjoys wine, women, and comfort. He doesn't want to protect anyone headed into the wilds of Wales, especially witchy Brighid l'Estrange, the one woman immune to his charms.
Brighid disdains her l'Estrange heritage, but she doesn't need any special skills to know that Stephen de Burgh is trouble. She would rather go alone to discover the reason for her alchemist father's summons and sudden death.
But they can't defy the Earl of Campion—or their destiny.

"Deborah Simmons continues this series with her usual skillful recreation of time, place and character, and achieves a luminous novel about a journey toward a celebration of self, and a love story not to be missed." - Romantic Times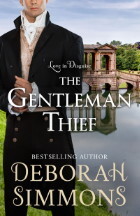 The Gentleman Thief

Amateur sleuth Georgiana Bellewether is investigating a theft, but will her heart be stolen, as well, in this Regency romp? A Romance Writers of America RITA Finalist.

"Definitely reread material, one to savor again and again." - Mrs. Giggles

"Not only is it witty, romantic and funny, it is beautifully written. . .I laughed from the first page, not only at the charming repartee between the hero and heroine, but at the many clever twists and turns the story takes." - All About Romance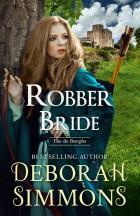 Robber Bride
Hardened warrior Simon de Burgh has no use for women and their wiles until he's waylaid by one. Now he plans to best the wench who dared capture him—and his heart.
Bethia Burnel leads a band of outlaws, striking from the fastness of the forest at the tyrant who holds her father prisoner. Although she knows how to deal with those who trespass in her woods, this arrogant knight threatens her very existence—and her heart.
But all's fair in love and war.
"The de Burgh series just keeps getting better and better with its gripping tales of love, power, passion, and adventure." – Rendezvous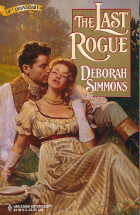 The Last Rogue

Although Viscount Raleigh enjoyed playing matchmaker to his friends, he never anticipated his own nuptials. But when circumstances force him to wed Plain Jane Trowbridge, he finds married life to his liking in this Regency romp.

"The Last Rogue is a prime example of master storyteller Deborah Simmons' character-driven plots...filled with wonderful sensuality and a basic joy of living." - Under the Covers

"Charming, delightful, and funny too! The Last Rogue is one of the most delightful books I have read this year. The dialogue was hilarious, the main characters were adorable, and the supporting characters were perfect. I give this book keeper status - five hearts - two thumbs up - and, an A." - All About Romance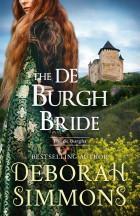 The de Burgh Bride
By king's decree one of the de Burghs must marry the daughter of their fallen enemy. She's a notorious hellion rumored to have murdered her first husband on their wedding night, and none want to be her second.
A scholar as well as a knight, Geoffrey de Burgh values knowledge as much as his sword. But he can't explain why he's drawn to the maddening woman he must make his wife. And someone wants him dead. Is it his bride?
Elene Fitzhugh would have no husband and vows to drive him away with the point of her dagger. But the gallant knight is unlike any man she has ever known. And she must arm herself against a new threat—the power of attraction.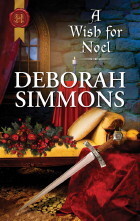 A Wish for Noel

In this medieval novella, first published in The Knights of Christmas anthology, a world-weary knight Benedick Villiers returns to his keep to find an unwanted ward determined to celebrate the Twelve Days of Christmas - and give him the most precious gift of all.

"...most emotionally fulfilling of the tales." - The Romance Reader

"Delightful reading!" - Rendezvous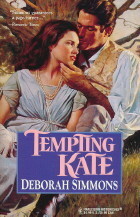 Tempting Kate

Kate Courtland is determined to wreak revenge upon the Marquis of Wroth, the man said to have compromised her sister, but when she waylays him at gunpoint, both the lady and the nobleman end up with more than they bargained for . . .

"With Tempting Kate, author Deborah Simmons has proven that she is a multiple personality author, capable of writing in more different styles than any other romance author this reviewer has read." - All About Romance

"Deborah Simmons' utterly delightful and charming light romance is a sweet and steamy little confection that is sure to charm Regency readers." - Romantic Times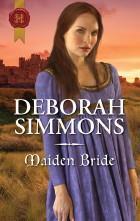 Maiden Bride

In this sequel to The Devil's Lady, Nicholas de Laci seeks revenge upon his old enemy. But marriage to the man's niece changes his mind - and his life - in ways the wounded warrior never imagined.

"Maiden Bride's plot is excellent, enchanting, and exciting...I couldn't put it down." - Rendezvous

"Maiden Bride has humor, sensuous love, and tremendous characters that make it a sure bet!" - Literary Times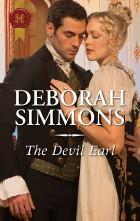 The Devil Earl

Dark and brooding and rumored to have done murder, the Devil Earl was everything Prudence Lancaster's imagination could conjure and infinitely more seductive than anything she had ever created. In his presence, the dreamy authoress became a sultry sleuth, hungry to solve the mystery of Ravenscar's missing brother and to save the Devil Earl from his own wicked legacy.

"Absolutely magnificent, TDE demands reread after reread." - Mrs. Giggles

"The Devil Earl is a wonderfully written romance, complete with passion, love, mystery and a terrific cast of characters." - Romantic Times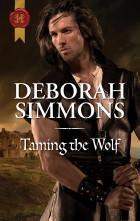 Taming the Wolf

The first of the de Burgh family series focuses on the eldest of the seven bachelor brothers. Ordered by his father to escort Lady Warenne back to her home, the Wolf of Wessex soon has his hands full in this road romance.

"What an adventure! Taming the Wolf was funny, challenging, and exciting, with an underlying danger to heighten the senses. This romance was sooo good!" - Affaire de Coeur

"This thrilling, fast-paced romance presents a breathless love story and a whole family of promising Medieval heroes." - Romantic Times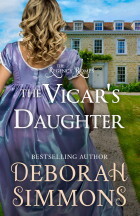 The Vicar's Daughter

When the Earl of Wycliffe strides into the vicarage, Charlotte Trowbridge decides he is the man she wants to marry. But her efforts to convince him always go awry.
Wycliffe has planned his future down to the minute, and it doesn't include a vicar's daughter. But the beauty keeps wreaking havoc with his life—and his senses.
Will Wycliffe toss his schedule to the winds and his heart into the fray?
"Delightful, simply delightful!... Thank you, Deborah Simmons for giving us Max and Charlotte, and for doing it up right. This one's a real delight." – All About Romance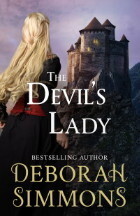 The Devil's Lady
Bid by King Edward to marry, Aisley de Laci hopes to avoid the altar by choosing Baron Montmorency. She is certain none will agree to the union, especially the baron, who is rumored to practice the dark arts from his isolated keep.
Renowned in battle, Montmorency has secluded himself at Dunmurrow for reasons of his own. And he does not want a wife, no matter how wealthy and beautiful. But even he cannot defy the king, and what comes to him he takes—and holds.
Aisley refuses to believe that Montmorency possesses any mysterious powers. Yet how else to explain her own growing feelings for a man so shrouded in shadow she has never seen his face?
"Deborah Simmons guarantees the reader a page-turner." – Romantic Times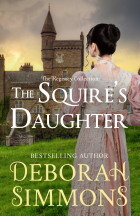 The Squire's Daughter
The Worthington Curse…
Is the Marquess of Worthington doomed like his ancestors? The notorious rogue doesn't believe in that old legend. But he trusts his instincts, and they're telling him the squire's daughter he once befriended is in danger.
Clare Cummings believed in curses, fairy tale castles, and happy endings—until Worthington broke her heart. But if he's determined to rescue her from a bad betrothal, she might rescue him right back. Can she save him from the history that haunts him, or will the curse destroy them both?
"Simmons demonstrates her growing talent in this murder mystery Regency romp." - Affaire de Coeur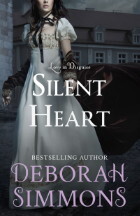 Silent Heart

Dominique's noble lineage marks her for death in Revolutionary France. Forced from her family's home, she must assume a new identity to seek her father amid the tumult of Paris. But she isn't the only one living a lie.

The man who risks his neck to help others escape the guillotine avoids capture by allowing no one to get close to him. But one brave beauty could be his undoing...

When survival depends on keeping their own secrets, dare they trust their hearts?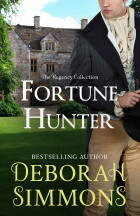 Fortune Hunter

When his father gambles away the family fortune, Viscount Sheffield must find himself a wealthy wife. Undaunted by her reputation as Lady Disdain, he wagers he will win the hand—and heart—of Miss Melissa Hampton.

Heiress Melissa Hampton holds her suitors in contempt, but the handsome, witty, and charming viscount woos her like no other. Is the man more than what he seems, or is he just another fortune hunter?

And in this game of love, who is in danger of losing all?

"Fortune Hunter is a light-hearted, delicious Regency romp that tickles the reader's funny bone."- Romantic Times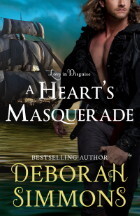 A Heart's Masquerade

Danger forces Catherine Amberly to disguise herself as a cabin boy on a privateer bound for the Caribbean. But the threats she left behind follow her into the heat of the tropics, where she must face her feelings for Captain Ransom Duprey.
Ransom has his own enemies—and suspicions about the beautiful young woman in the Barbados ballroom. Although they've never met, she seems to know him better than he does himself. And the more she denies him, the more determined he is to uncover all of her secrets...
"This is a fun-filled adventure with pirates, villains, lords and ladies, suspense, romance, and much more." - Bookbug