The Dark Viscount
Sydony Marchant is suspicious of the maze behind her new home, an old manor house with a sinister history. She's even more suspicious of darkly handsome Bartholomew Hawthorne, and when he arrives on her doorstep, she doesn't know whether to run to him—or away from him.
Viscount Hawthorne hasn't traveled to Oakfield for a friendly visit or to gawk at a garden maze, no matter how eerie it is. He's there to solve a mystery of his own, and he won't be distracted by lovely Sydony Marchant—even if she could be his one weakness.
But Sydony and Samhain may change his mind.
"Simmons grabs readers with a well-crafted Regency-set romance. A stormy, bleak landscape; a dark, unwelcoming manor house and mysterious goings-on in the overgrown ominous maze lend a chilling gothic flavor." – Romantic Times
The Regency Collection:
Witty Regencies with a Touch of Mystery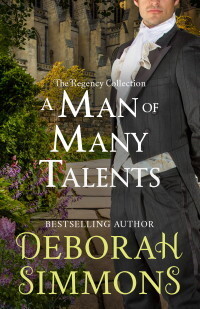 A Man of Many Talents

An age-old mystery. An inconvenient spirit. An unlikely romance.
Abigail Parkinson is anxious to rid her inherited home of its troublesome specter. When she cannot convince a scientist or scholar to investigate, she turns to the one man she doesn't want to ask for help: Lord Moreland.
Viscount Moreland isn't a scientist or a scholar. The blood of pirates runs in his veins. But he's known for debunking a haunted house, and when summoned to Sibel Hall he vows to solve all of its secrets—including how to woo the intriguing Miss Parkinson.

"Readers looking for a light, funny, and smart story can find it here." – All About Romance

Book #1 of The Regency Collection: Witty Regencies with a Touch of Mystery

Amazon B&N iBooks Kobo Google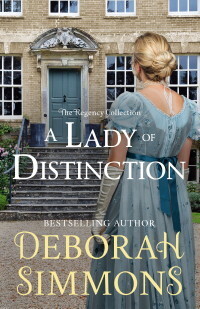 A Lady of Distinction

Morgan Beauchamp doesn't have much use for Regency society or a female Egyptologist. He'd rather be digging in the desert for the artifacts he sells to wealthy collectors. Can he work with Lady Juliet Cavendish to find out who—or what—is threatening them both?
Lady Juliet doesn't believe Beauchamp unleashed an ancient curse. But the rogue might unleash her dormant passions, tempting her to leave her scholarly existence for a life of adventure…
A RITA Award Finalist for Best Historical Romance
"A bit of THE MUMMY and a lot of Indiana Jones merge in this entertaining nonstop read." – Romantic Times

Book #2 of The Regency Collection: Witty Regencies with a Touch of Mystery

Amazon B&N iBooks Kobo Google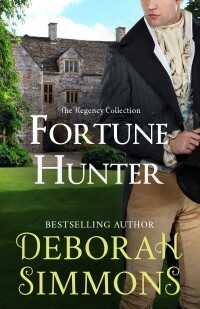 Fortune Hunter


When his father gambles away the family fortune, Viscount Sheffield must find himself a wealthy wife. Undaunted by her reputation as Lady Disdain, he wagers he will win the hand—and heart—of Miss Melissa Hampton.

Heiress Melissa Hampton holds her suitors in contempt, but the handsome, witty, and charming viscount woos her like no other. Is the man more than what he seems, or is he just another fortune hunter?

And in this game of love, who is in danger of losing all?

"Fortune Hunter is a light-hearted, delicious Regency romp that tickles the reader's funny bone."- Romantic Times

Book #3 of The Regency Collection: Witty Regencies with a Touch of Mystery

Amazon B&N iBooks Kobo  Google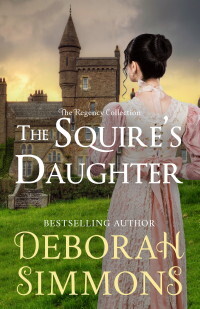 The Squire's Daughter
The Worthington Curse…
Is the Marquess of Worthington doomed like his ancestors? The notorious rogue doesn't believe in that old legend. But he trusts his instincts, and they're telling him the squire's daughter he once befriended is in danger.
Clare Cummings believed in curses, fairy tale castles, and happy endings—until Worthington broke her heart. But if he's determined to rescue her from a bad betrothal, she might rescue him right back.
Can she save him from the history that haunts him, or will the curse destroy them both?
"Simmons demonstrates her growing talent in this murder mystery Regency romp." - Affaire de Coeur
Book #4 of The Regency Collection: Witty Regencies with a Touch of Mystery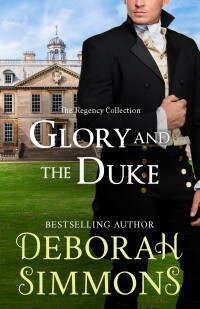 Glory and the Duke
Glory Sutton wants to reopen her family's once famous spa, though she scoffs at rumors of its romantic powers. But someone is working against her. Could it be the handsome and powerful Duke of Westfield, who might not be what he seems? Glory doesn't trust him—or herself when he's near.
Westfield doesn't believe in matchmaking waters or Miss Sutton's motives, but something about her stirs feelings he'd thought long dead. He's determined to solve all of her mysteries—including why she affects him like no other woman.
Is the well working its magic?
"This historical romance has danger, intrigue and a thrilling mystery." – Romantic Times
Book #5 of The Regency Collection: Witty Regencies with a Touch of Mystery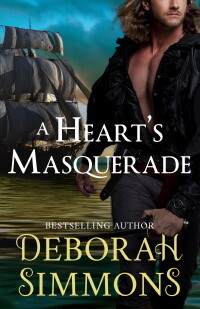 A Heart's Masquerade

Romance and Adventure on the High Seas

An attempt on her life forces Catherine Amberly to flee her manor house for the role of cabin boy on a ship bound for the Caribbean. But the threats she thought left behind follow her into the heat of the tropics, and soon she faces a more potent danger in the form of Ransom Duprey. When she finds herself falling for the privateer captain, Cat abandons ship for the life of a lady once more.

Ransom has his own enemies—and suspicions about the beautiful young woman in the Barbados ballroom. Although they've never met, she seems to know him better than he does himself, and the more she denies him, the more determined he is to uncover all of her secrets...

"This is a fun-filled adventure with pirates, villains, lords and ladies, suspense, romance, and much more." - Bookbug

Amazon B&N iBooks Kobo Google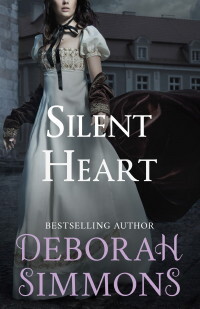 Silent Heart

Dominique's noble lineage marks her for death in Revolutionary France. Forced from her family's château, she seeks her father amid the tumult of Paris by assuming a new identity. But she isn't the only one living a lie.

The man who risks his neck to help others escape the guillotine avoids capture by allowing no one to get close to him. But one brave beauty could be his undoing...

When survival depends on keeping their own secrets, dare they trust their hearts?

"A powerfully poignant romance." - Affaire de Coeur

"Ms. Simmons presents readers with a historically accurate and well crafted tale." - Romantic Times

Amazon B&N iBooks Kobo Google
Medievals: Knights, Ladies, and Love
The de Burgh Bride
To tame a shrew...
By king's decree one of the de Burghs must marry the daughter of their fallen enemy. She's a notorious hellion rumored to have murdered her first husband on their wedding night, and none want to be her second.
A scholar as well as a knight, Geoffrey de Burgh values knowledge as much as his sword. But he can't explain why he's drawn to the maddening woman he must make his wife. And someone wants him dead. Is it his bride?
Elene Fitzhugh would have no husband and vows to drive him away with the point of her dagger. But the gallant knight is unlike any man she has ever known. And she must arm herself against a new threat—the power of attraction.
"Once again Simmons has brought together wonderful and passionate characters... in this thrilling and dangerous story." - Affaire de Coeur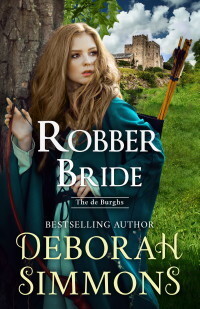 Robber Bride
The battle has been joined...
Hardened warrior Simon de Burgh has no use for women and their wiles until he's waylaid by one. Now he plans to best the wench who dared capture him—and his heart.
Bethia Burnel leads a band of outlaws, striking from the fastness of the forest at the tyrant who holds her father prisoner. Although she knows how to deal with those who trespass in her woods, this arrogant knight threatens her very existence—and her heart.
But all's fair in love and war.
"The de Burgh series just keeps getting better and better with its gripping tales of love, power, passion, and adventure." – Rendezvous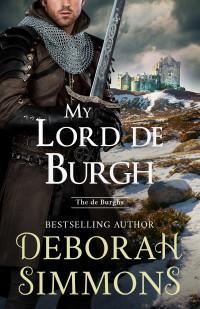 My Lord de Burgh
A destiny that cannot be denied...
The handsomest of the de Burgh family of knights, Stephen enjoys wine, women, and comfort. He doesn't want to protect anyone who's headed into the wilds of Wales, especially witchy Brighid l'Estrange, the one female immune to his charms.
Brighid disdains her l'Estrange heritage, but she doesn't need any special skills to know that Stephen de Burgh is trouble. She would rather go alone to investigate her alchemist father's death.
But they can't defy the Earl of Campion—or their destiny.
"Deborah Simmons is an author I read automatically. Why? Because she gets it right. I can always count on her for a good tale, a wonderful hero, a feisty heroine, and a love story where it truly is love that makes the difference." – All About Romance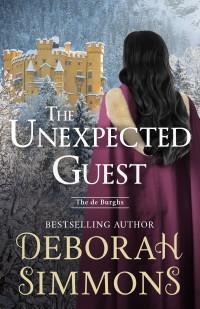 The Unexpected Guest:
A de Burgh Novella
With so many of his seven sons scattered, Christmas holds little joy for the Earl of Campion until the arrival of an intriguing young widow.
Lady Warwick trusts no man, even the legendary Campion. But a winter storm forces her to seek shelter at his castle, where the festivities—and her enigmatic host—are like nothing she has ever known.
Can the Twelve Days of Christmas thaw Campion's famous reserve and melt the lady's heart?
"Deborah Simmons is a talented writer whose stories I always look forward to reading—and this one is no exception. An Unexpected Guest is at its heart, the simple story of two nice people falling in love at Christmastime. Mmmmm. What could be more romantic?" - All About Romance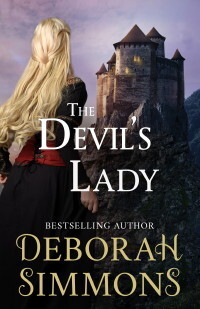 The Devil's Lady
Bid by King Edward to marry, Aisley de Laci hopes to avoid the altar by choosing Baron Montmorency. She is certain none will agree to the union, especially the baron, who is rumored to practice the dark arts from his isolated keep.
Renowned in battle, Montmorency has secluded himself at Dunmurrow for reasons of his own. And he does not want a wife, no matter how wealthy and beautiful. But even he cannot defy the king, and what comes to him he takes—and holds.
Aisley refuses to believe that Montmorency possesses any mysterious powers. Yet how else to explain her own growing feelings for a man so shrouded in shadow she has never seen his face?
"Deborah Simmons guarantees the reader a page-turner." – Romantic Times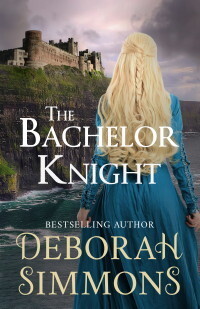 The Bachelor Knight:
A Medieval Romance Novella

A Knight's Vow

Lady Guenivere St. Leger has need of a knight. But she trusts none except Sir Berenger Brewere, who turned his back on his birthplace long ago. Now one of the foremost warriors in the country and a favorite of the king, will he remember those he left behind?

Sir Brewere has his own vast lands, earned in battle, and wants no reminders of his past. But he cannot ignore a summons from the St. Legers. Years before, he swore an oath more powerful than mere allegiance. And 'tis a vow he must honor, no matter the cost.

Amazon B&N iBooks Kobo  Google
Romantic Comedy: Love & Laughter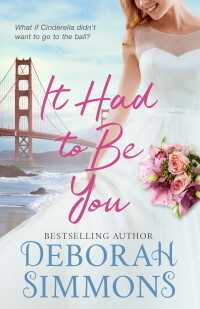 It Had to Be You

What if Cinderella didn't want to go to the ball?

Wedding planner Paige Porter doesn't believe in fairy tales. She's seen too many bridezillas, randy grooms, and short-lived marriages. But would-be fairy godmother Beatrice Maitland has other ideas. Her grandson Siegfried is one of the city's most eligible bachelors—if anyone could drag him away from his computer lab.

As CEO of The Maitland Company and the latest in a family of inventors, Siegfried might forget to eat or sleep, but he can't forget Paige Porter. He might even have to put aside his all-consuming research for a new venture: Project Paige. Because when he saw her he knew It Had to Be You.

"Unique and romantic, It Had To Be You by Deborah Simmons will capture you and delight you from page one until the last line." - Singletitles

Amazon B&N iBooks Kobo Google